Multi-Use Reusable Eco-friendly Bags
There is a wide range of reusable bag options available in the market. Reusable bags are heavier and more durable bags, constructed to have a longer life. These reusable bags are made from several different materials such as cotton, bamboo recycled PET, FSC-certified kraft paper and many others. However, you can get custom printed reusable bags, thermal bags, paper bags, eco-friendly poly bags, nylon bags, and reusable drinkware as well as a line of recycling containers and parts.
Reusable bags are an alternative to single-use paper or plastic bags. They are made from fabric such as canvas, natural fibers such as Jute, woven synthetic fibers, or a thick plastic that is more durable than disposable plastic bags, allowing multiple uses.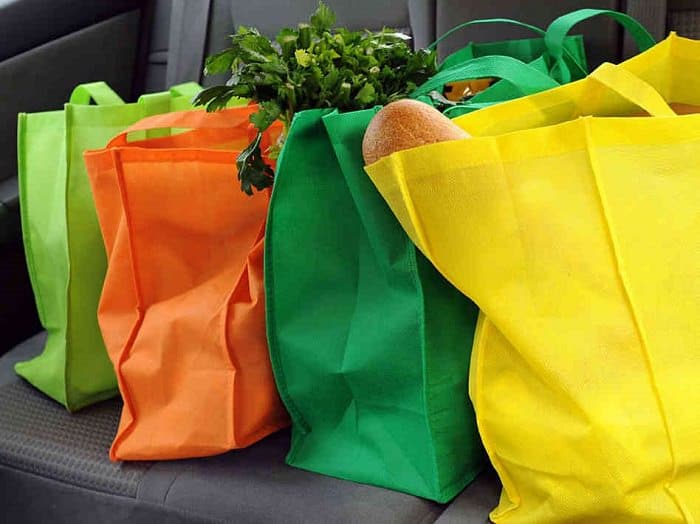 Why Should One Use Paper and Reusable Bags?
The way in which the excessive amount of plastic and its products are used these days has created a lot of buzz among people. However, with the help of advanced technology, bags are produced with micro-plastic which is highly responsible for devastating the ecosystem. Nowadays, consumers are looking more for reusable paper bags, which have made a grand comeback in the market.
Related: Environmental Education, Types of Pollution
Benefits of using Paper & Reusable Bags:
They are Reusable: Bags that are made from either paper or material are designed to be used often. Reusable Bags do not create any solid waste that could harm the environment.
Hygiene: When it comes to cleanliness and hygiene, reusable bags serve us with an option to wash them as and when needed. Most reusable bags can be gently machine washed with an Eco-friendly laundry soap and line dried.
Ecosystem: Due to the extensive use of plastic bags, the ecosystem is getting disturbed. Since plastic bags are very light, they can fly from one place to the other, thus ending up in places where they destroy the healthy ecosystem. Which is why it is suggested to switch from plastic bags to reusable bags.
Durability: Reusable manufactured bags are made from strong materials such as jute, canvas and woven recycled and synthetic fibers. Very different from plastic, these reusable bags have built-in high endurance capabilities and can retain their quality for an extended period of time. The reason for this is that the material used is strong, natural and durable.
If a single use from plastic to paper or reusable can help you protect the whole ecosystem, then why not make the right choice? For that, we have to make a minor attempt to cover the effects of plastic on the ecosystem. Now, it is up to you to make the choice of using the reusable bags or to continue with the hazardous plastic bags. Also, the reusable bags decrease the amount of UN-recyclable plastic waste on the planet.
However, many people are concerned about the impacts on energy consumption. When a reusable bag is to be produced, it requires more energy than a plastic bag. But using a recycled Eco friendly bag, once for a week is far better than using 52 plastic bags per year.
While the bags made of paper can be used just three times, they are acknowledged amongst the Eco-friendly goods. Whether you are looking to package cosmetics, pharmaceuticals, electronics, or automotive parts, one of the best option available is Eco-friendly bags, a packaging product to meet your green needs. Thus, environment-friendly packaging improves the brand image. As per studies conducted, all carrier bags must be utilized multiple times so that manufacturing them does not have a harmful impact on the Eco System.
Related: Importance of Solar Energy, Living walls & its benefits!